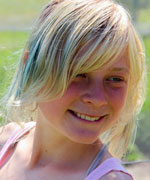 Photo by Oliver W. Tuthill Jr.
Once upon a time Kitty Jones dreamed of being a dairy farmer. However, after discovering the cruel reality of animal agriculture and job shadowing at a "local, organic, family" dairy farm, Kitty has realized that animals do not exist for humans to use and has dedicated her life to animal and environmental advocacy. A recent graduate of Shorecrest High School in Seattle, Kitty has been profiled on the blogs of Vegan Score, the ASPCA, Rainforest Action Network, and the Humane Society. She won the President's Volunteer Service Award for volunteering over 1,000 community service hours, and was the founder and president of her school's Animal Rights Club. Jones aims to teach people that animals are not ours to eat, wear, test on or abuse, and that in exploiting them, we are harming not only our own health but the environment. She is now studying Conservation and Resource Studies at UC Berkeley and will forever continue to promote a peaceful, cruelty-free, plant-based diet and vegan lifestyle.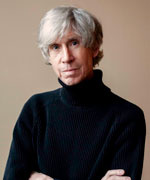 Photo by Sheena Marie
Oliver W. Tuthill Jr. has been working in film since he was a child. He lived in Hollywood for over a decade and pursued a career as a professional actor and stage director. He worked as an actor on the number one rated TV show in America in 1978: Quincy. He moved to Seattle in 1984 and started his own nonprofit educational film company where he won numerous awards including the 2002 Washington State Governor's Award in Media from then Governor Gary Locke. He formed Blue Wood Films LLC in 2004 and produced a number of award winning films on American Indians such as Wounded Heart: Pine Ridge and the Sioux and Questions for Crazy Horse. He has worked with such talents as Oscar nominated actor Graham Greene, actor/activist/author Russell Means, John Savage and Academy Award winning director Jonathan Demme. He believes that all animals, regardless of species, should be treated with respect and compassion.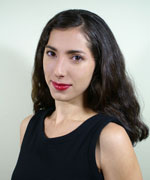 Photo by Marian Lane
Tara Walker has loved animals and been passionate about their cause since a young age when she helped her mother who was part of a local organization to aid homeless felines. When director Oliver Tuthill asked Tara to come on as a producer for The Girl Who Loved Animals – Kitty Jones and the Fight for Animal Rights, she was thrilled to be a part of it. Tara had met Kitty several years ago while working with Oliver on another film and was impressed with Kitty's maturity and dedication to animal rights even then as a young teen. Tara sees Kitty as a very intelligent and charismatic person to be representing animal rights and feels she has to ability to truly make a difference. It is Tara's hope as producer that this film can help educate and raise awareness of animals and their plight. Tara explains, "It is our job as humans to make sure animals are treated fairly and not exploited. I believe Kitty's message is a powerful one which can touch people and lead toward more ethical treatment of animals around the world."